5/17, Puzzle Balls, Puzzle Posies & More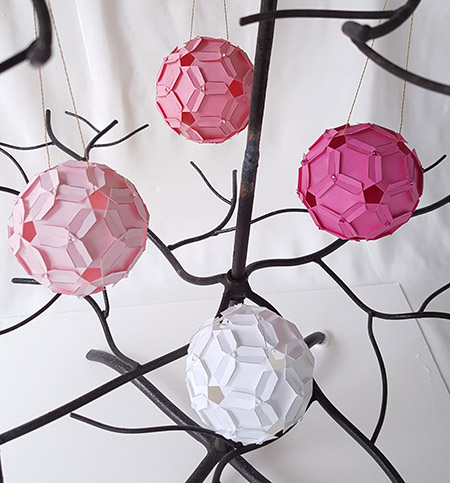 5/17, Puzzle Balls, Puzzle Posies & More
Thursday, May 17, 6pm-9pm
Instructor: Kris Koch
In this second workshop, students will practice precision paper cutting while they create 3D paper spheres called puzzle balls. Puzzle balls are easy to cut and assemble and can be embellished and transformed into all sorts of decorative objects. After a brief review of paper-cutting basics (see Woven Heart May Day Basket description), students will learn how to make and cut-out templates; cut pieces and assemble at least 1 and up to 5 puzzle balls; embellish a puzzle ball with crystals, pearls or beads; and turn a puzzle ball into a puzzle posy, ornament or kissing ball. We'll also discuss color combinations and patterns.
Fee includes instructional handout, templates for 5 sizes of puzzle ball, plastic for multi-use templates, premium colored cardstock to complete 5 puzzle balls, embellishments for 1 puzzle ball, gem glue, painted wooden stem for 3 puzzle posies, string to create an ornament or ribbon to make a kissing ball, aluminum foil, masking tape, and resources for more advanced puzzle ball designs. Please see additional materials requirements below.
Additional Required Materials: Small sharp scissors with pointed tip, such as embroidery scissors; regular tweezers, pointed tip; pencil (wooden or mechanical); pencil sharpener; vinyl eraser; thin Sharpie marker in dark color; metal ruler or wooden ruler with metal edge; and Jelly Roll or other metallic gel pens in gold and/or silver. Optional, but helpful: personal paper trimmer/cutter, not Cricut or Silhouette or any computerized cutters.